Register Now For My All-New FREE 3-Day Sales Sprint And Finally Crack The Code Of Client Attraction
The Jonny Hates Marketing 3-Day Sales Sprint starts in:
MY SPRINT CHALLENGE IS BACK!
[AKA Sales The Easy Way In 3 Days]
  Do you feel like you're playing too small?
  Frustrated you don't have enough clients?
Overwhelmed with all the marketing things?
 Demoralised by your peers doing better than you? 
  Tired of people saying they can't afford you?
It's time to turn your fortunes around!
Just finished Jonny's amazing master class about Facebook groups. Very informative and well organized. I highly recommend this class for anyone that wants to start and grow a Facebook Group.
Thank you Jonny Cooper ❗
Great interactive workshop online!
Incredible simple tools to use immediately.
Highly recommend.  😍
Thank you Jonny for a fab masterclass today, loads of practical advice and tips to take away and be getting on with – I look forward to my 'Thrive' Group growing and becoming a wonderful community
🙏
Thank you for the facebook group masterclass! Brilliant insights, lots of good tips to take away and run with! And fantastic to have the interaction with the group! <3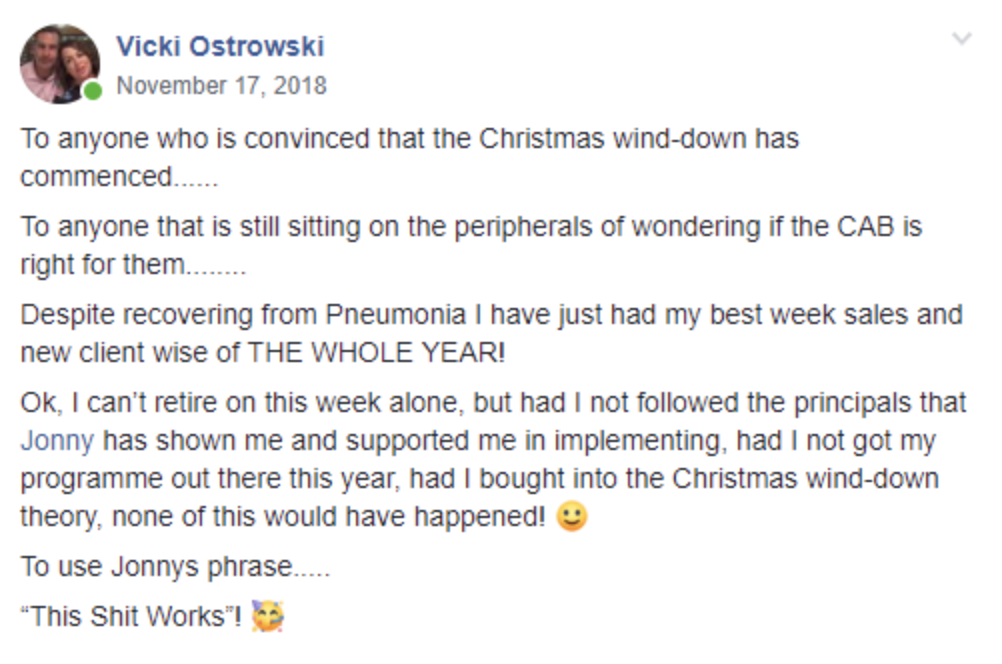 A PERSONAL MESSAGE FROM ME
In 3 bite-size daily workshops from the 19th October, I'm going to show you everything I know about selling coaching or therapy services.
Register here, right now:
 https://m.me/JonnyCooperGlobal?ref=w13001366 
Using the ARC Method™ of ethical sales, you'll crack the code of identifying and enrolling profitable new clients simply, sustainably and scalably.
ARC™ is the antidote to spray-and-pray, where you're scratching around trying to sell courses for pennies to "anybody who's interested". [HINT – Nobody is.
In this all-new 3-day Sales Sprint, you'll finally learn:
 What your ideal clients look like, and where to find them

 How to frame your Godfather Offer so it practically sells itself

 The ethical way to build a real business from your skills and knowledge
THE LOWDOWN:
 The challenge runs from October 19th – 21st 2020


 Three live video workshops from 14.00 – 14.45 UK Mon – Weds


 You will be given a specific daily action to implement in your business right away
TO QUALIFY, YOU MUST:
 Be a coach or therapist

 Have some paying clients, or be about to launch your business

Be prepared to learn some simple yet innovative new ideas about ethical selling
WHAT TO DO NEXT:
Click here now to register immediately for the Challenge

 https://m.me/JonnyCooperGlobal?ref=w13001366 
 Once you're registered, we'll let you know how to join the live sessions
See you on the 19th!
Love you lots
Jonny
PS: There will be prizes. Oh yes, there will be prizes.